Hack Belgium is a 3-day innovation festival and hackathon that aims to address the societal problems facing Belgium in the next 20 – 30 years. There are 12 societal challenges to tackle including issues such as equal education, good healthcare or meaningful work for all and even blue energy – sustainable energy from the North Sea. The program is supported by participants learning about integrating 10 emerging technologies ranging from IoT to aerospace, and biology as a technology.
Hack Belgium was created by three co-founders who had a vision to create an innovation event that could unlock the entrepreneurial gridlock in Belgium. They wanted to help Belgians move past the entrenched attitude of "it's not my job" to fix the issues Belgium will be facing as a country in the future.
Belgium has lots of cultural & socioeconomic divides based on language groups & idea protectionism. How do you get 750+ people to collaborate and share ideas when they normally wouldn't even speak to one another?
The Hack Belgium founders needed to create a program and physical experience that facilitated participants from various cultural and socioeconomic areas to come together to solve Belgium's problems.
EXPERIENCE DESIGN DIRECTOR
BRUSSELS, BELGIUM
As the experience design director I was brought on to apply a design thinking methodology that takes the human experience into account. My role was to bring the founders' vision to life and to enable the larger picture of the experience. This involved designing the structure of the ideation sessions and the program that facilitated cross pollination of ideas and project creation.
I also focused on implementing new systems and bringing on board the people and resources who could help execute by tapping into the design/innovation network. I prefer not to work on a vacuum and Hack Belgium is an excellent project to work in collaboration with others.
Techniques employed: user personas; paper prototyping; user testing ideation sessions; event organization and space layout.
By implementing several streamlined services I increased registration of teams/projects from 52 in 2017 to 98 in 2018 – an 88% increase.
The second year I implemented an online team registration system which streamlined the process and allowed the Hack Belgium staff to track the progress of challenge teams from Day 1 to Day 3 pitch sessions.
Hack Belgium founders explaining their purpose
Hack Belgium grew from 700 participants and experts the first year to 1000+ the second year.
Convincing experts and possible ticket buyers to take a chance and try reaching across the business and cultural divides.

Designing a space that could flexibly accommodate the needs of 750 – 1000 people over the course of 3 days.

Easing participant and sponsor fears around sharing ideas and intellectual property.
Working in a small but agile team of 11 people, we all had to wear multiple hats and roles.

Create a dynamic program that supported creativity while keeping people on track.

Design the space and experience of the venue to benefit both participants and the Hack Belgium team. I had to consider both the end users (attendees) and the back of house (HB team and volunteers)
AUDIENCES
The audiences are: enterprise attendees and exhibitors; SME attendees; individuals such as freelancers; students; unemployed; sponsors/exhibitors; experts; volunteers and the HB staff.
This also included middle management types who decision-making abilities or would return to work & disseminate the ideas. Our focus here was to make them feel comfortable sharing ideas with people from other companies and build lasting relationships beyond Hack Belgium where cross-industry innovation can happen.
These were the independent designers, engineers/developers, marketing folks. We treated this group as the crack team members who could inject new ideas into an established team deliberately by being outsiders. We also wanted to embrace their sense of entrepreneurial adventure and willingness to try anything.
Our core approach with this demographic was to make them feel like their ideas were valid for inclusion and to never make them feel singled out or branding in any way.
We had to accommodate over 200 core knowledge experts and mentors who helped throughout the 3 day activity. This ranged from ideation session facilitators for the challenge workshops to tech experts, design & business workshop experts, exhibitors, and pitching mentors or jurists.
These included high level enterprise or government guests who were not hacking. For example the Minister of Finance was given tours to understand what the possibilities for advancement were possible in Belgium.
The core staff and volunteers. The back of house that made everything tick and ensured our attendees felt cared for the entire time.
PAIN POINTS
Some attendees did not feel empowered to speak their ideas. Because of Belgium's hierarchical culture, non-executives or management types did not feel comfortable speaking up or sharing ideas in public.

Participants needed guidance through the design & innovation process. This was a new process to most participants and they needed a structure to their 3 days.
NEEDS/GOALS
Meet other members in industry and build relationships. Breaking down walls of protectionism was a key factor.

Rapidly iterate ideas and form teams. We had to design the ideation sessions to teach people to kill their darlings and rapidly iterate.

Do a trial study/collaborative study with patients to address their issues. Bring better financial and physical access to patients.
IDEATION, DESIGN & EXECUTION
Program Design
Working with the Director of Content and the content team we created a program that featured several key opportunities to learn and do: ideation workshops that focussed on addressing How Might We questions for the 12 societal challenges; design and business workshops; and technology support workshops featuring the 10 technologies.
To tackle the printed program and the hacking guide, I brought on another experience designer and a visual designer to create the materials that would guide participants (and experts) through the three day process.
Sketches/paper wireframes for hacking guide & program
The FINALIZED PROGRAM AND Hacking Guide
We created two separate paper documents: hacking guide and the program. Both were designed to be A5 when folded down – small enough to fit in an attendee's pocket or sketchbook and easily carried around all 3 days.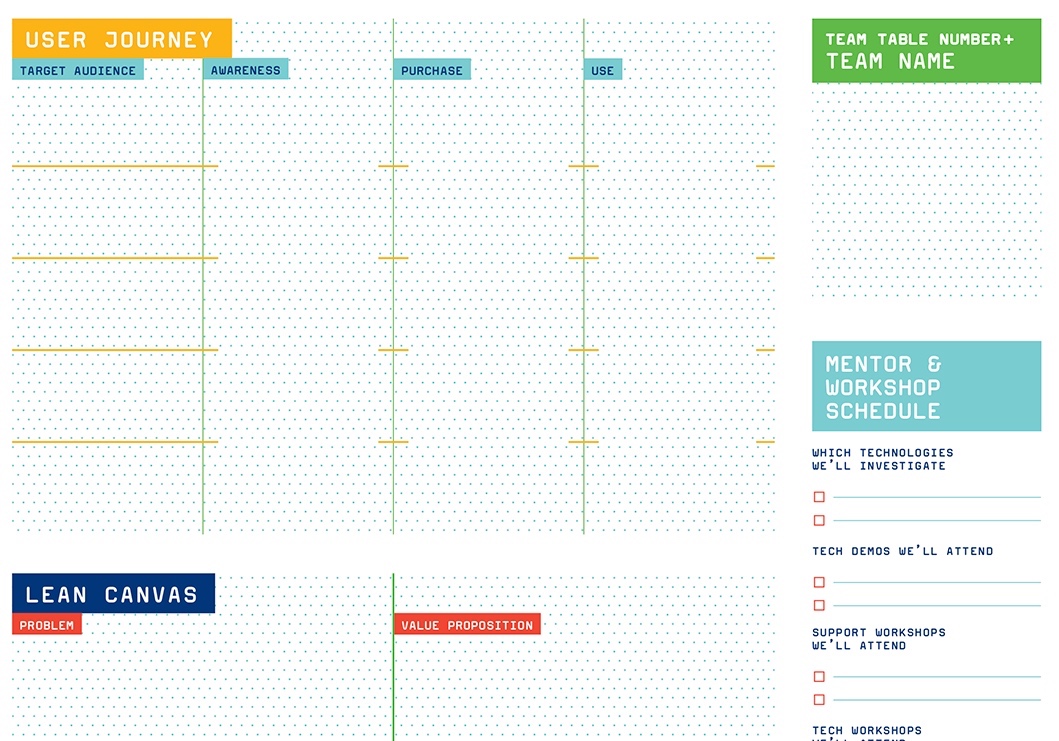 Using an easily editable program, I created the Hack Belgium app that housed the workshop program, hacking guide, experts, venue map, and other vital information, all in the palm of your hand.
As info became available throughout the event, such as presentations about pitching preparation or announcements, we were able to easily add it to the app and inform people immediately.
<< Hack Belgium App Menu SCREEN (click to enlarge)
10 SUPPORTING TECHNOLOGIES
Ideation Sessions & VARIOUS WorkshoPS
Ideation Sessions for 12 societal challenges
We designed a 90 minute workshop experience based around the "How Might We" structure of interrogating topics & solving problems. We introduced attendees to the process of rapid design iteration via a modified Double Diamond method.
This ideation structure was rolled out across all 12 challenges on Day 1. Each challenge had 3 ideation sessions that day based around a different topic with 2 – 3 domain experts presenting HMW questions at beginning of the session. The facilitator then led participants through rapid drawing and ideation exercises, ending with settling on One Big Idea to possibly work on for the next few days.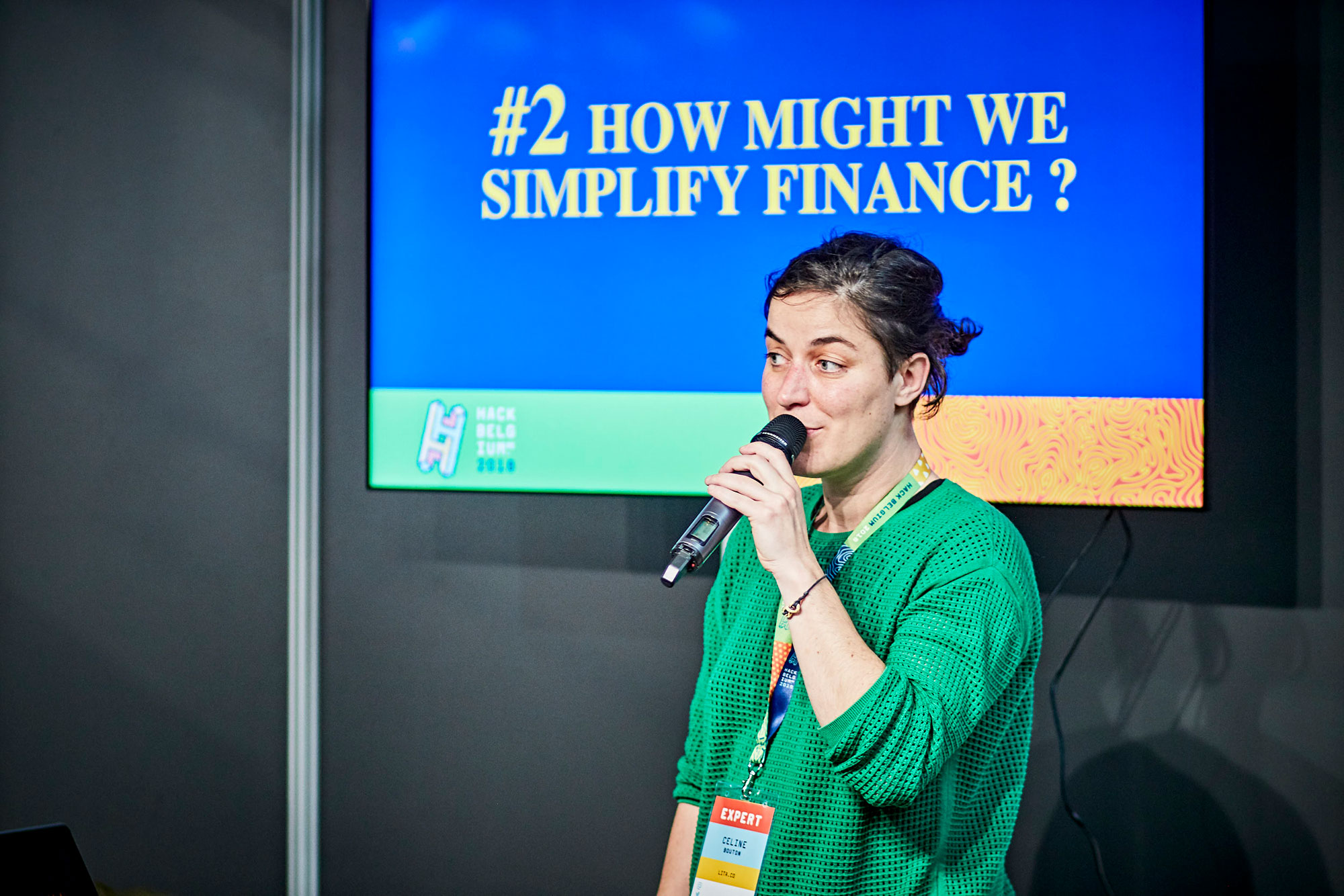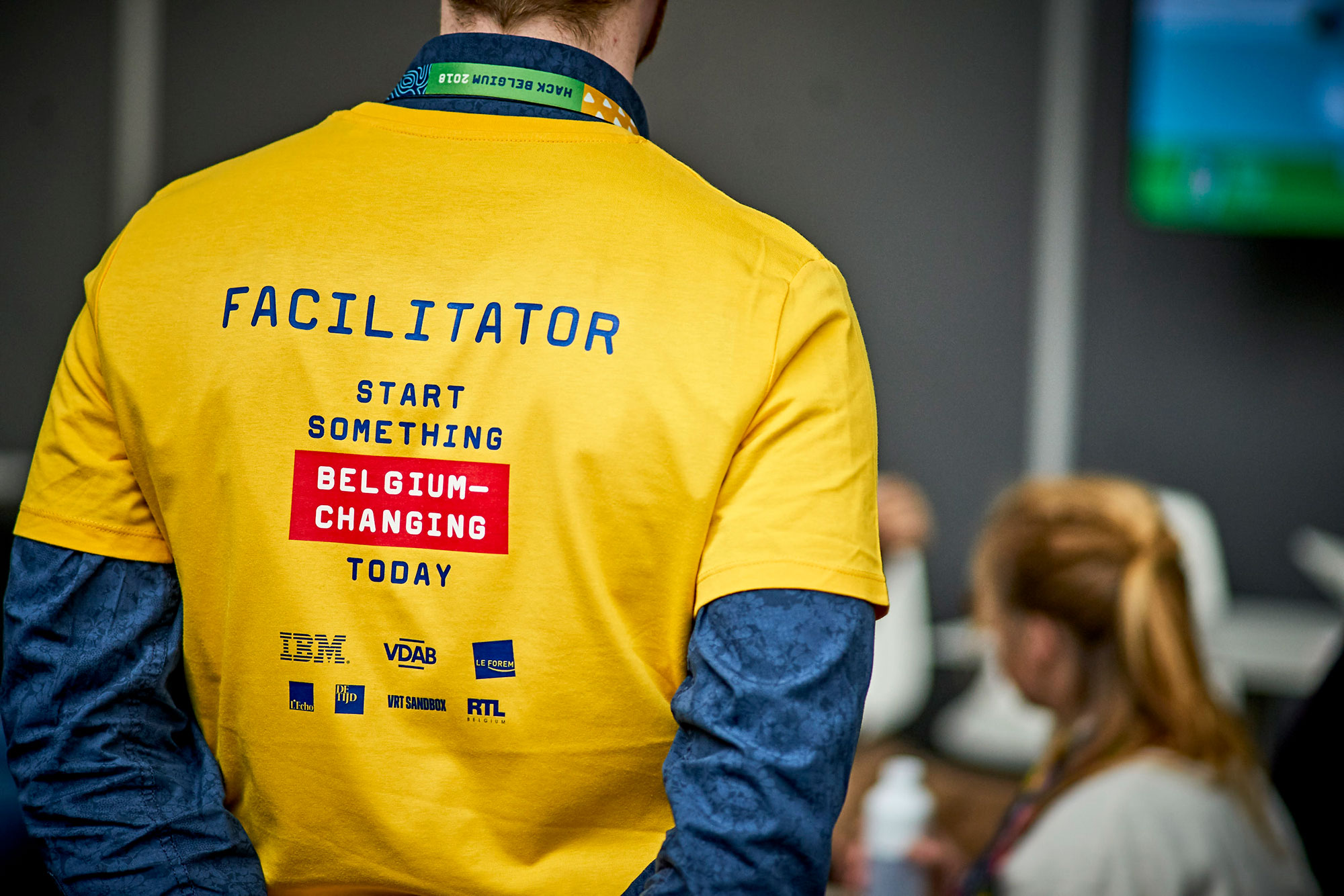 event Space Design that fits the people
The venue were two large industrial sheds Tour et Taxis in Brussels, Belgium, a historical landmark building complex that housed the Europe's first (horse) taxi stables.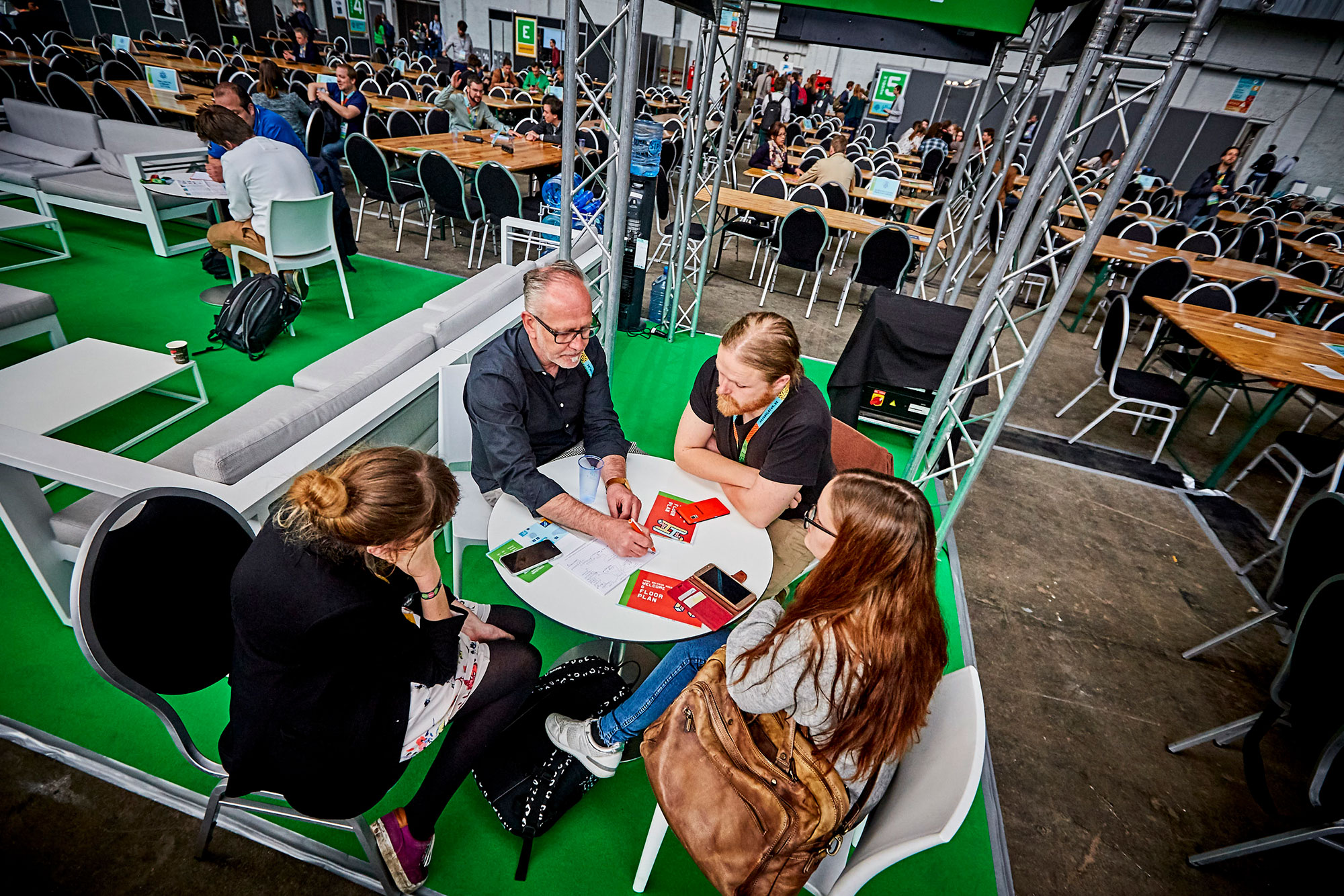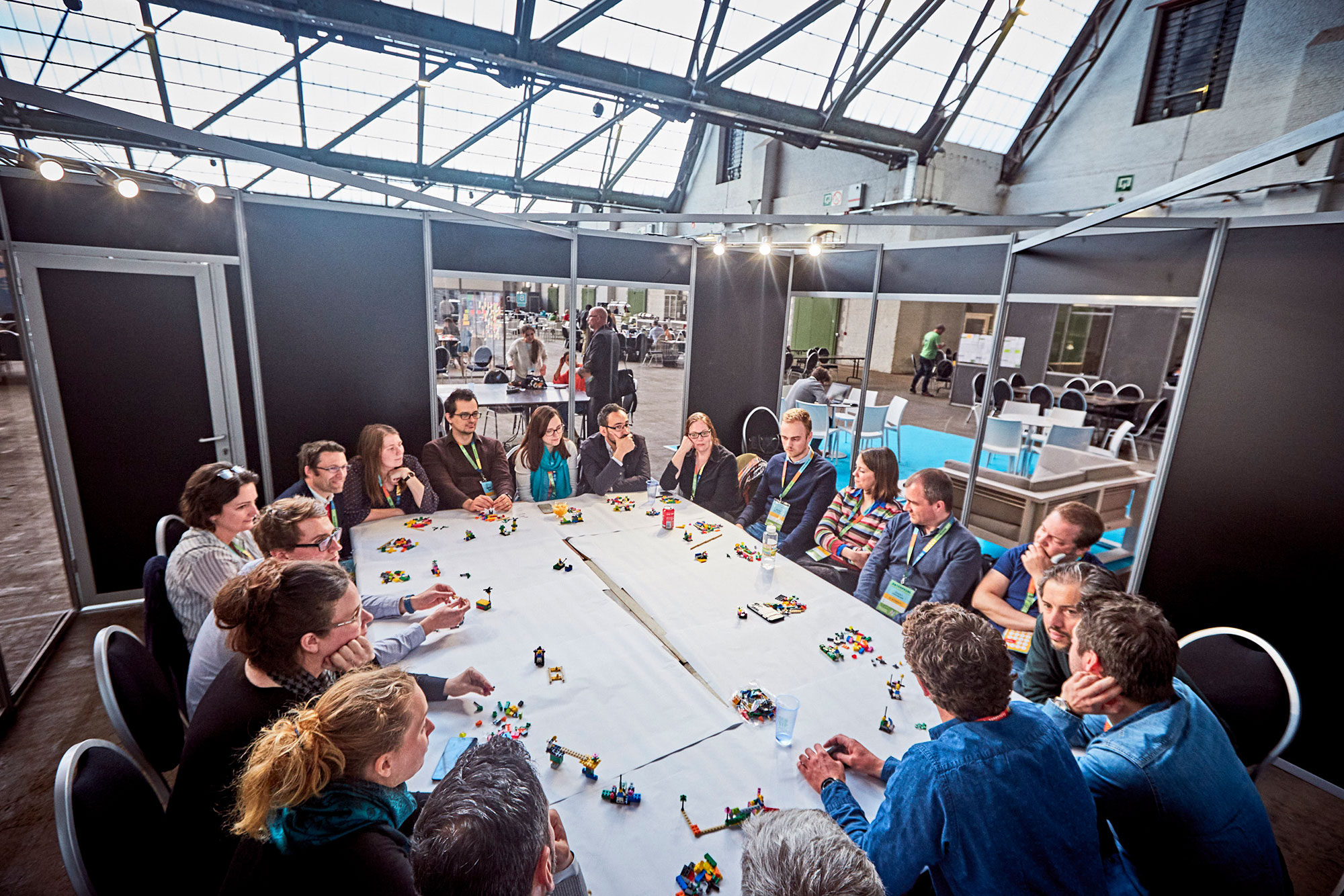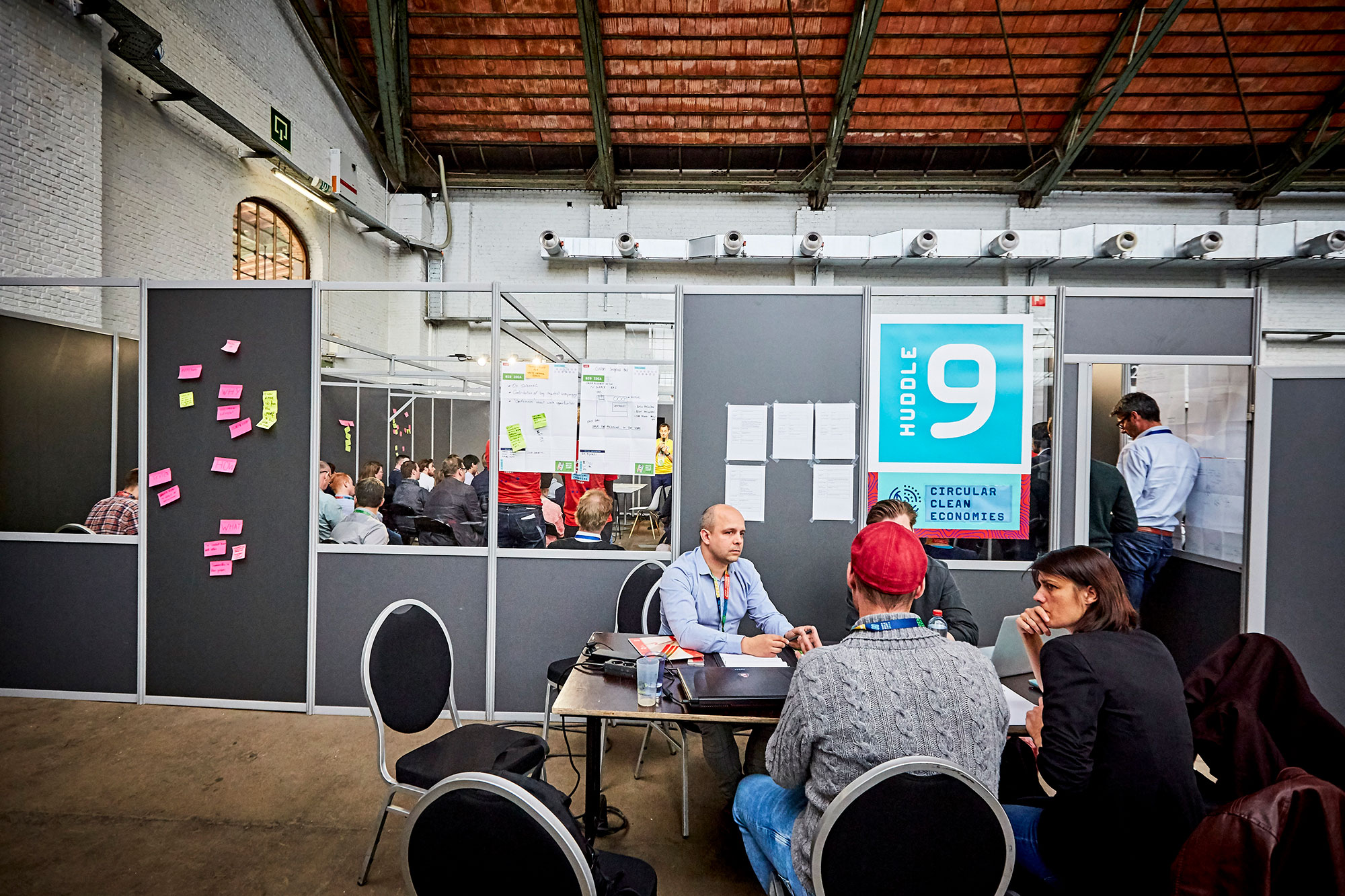 88,000 square feet designed to create a space that fostered ingenuity and helped people feel welcome and supported
12 ideation "huddles" which housed the main social challenges and 6 smaller workshop spaces that featured the design, business, and tech workshops.
In the center of one space, there was the Experience Zone where the 10 technologies lived. People could visit the exhibitors, play with the tech and talk to the experts to help inform their design decisions.